Buildings, Lockers, Shelters and Magazines
Securall is the industry leader in Fire Rated Storage. Our hazmat & chemical Storage buildings are specifically designed and FM approved for hazardous material storage and dispensing from 55-gallon drums containing flammable or combustible liquids. All Hazmat Storage Buildings are designed in accordance with the standards set forth by NFPA Code 30 and comply with OSHA and EPA regulations.
Our Tornado Shelters are built in accordance with specifications set forth by FEMA, the National Storm Shelter Association (NSSA), and the International Code Council (ICC).
Securall Explosive Storage Magazines provide safe and compliant storage options for both High and Low Explosives
View All Buildings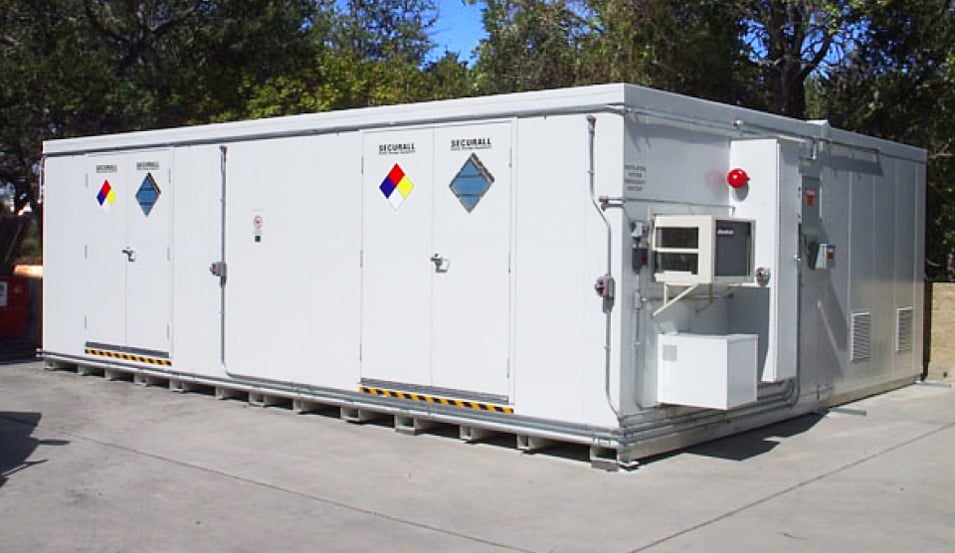 Securall Steel Doors
Securall offers a wide variety of standard-sized pre-hung doors. One of the only manufacturers who can build custom-sized doors and frames, our products are manufactured from the highest quality materials, including high grade steel and commercial quality hardware.
The Quick Mount door and sub-frame can be used to quickly replace an old door or to change the handing/swinging of an opening. Quick Mount Doors come with all hardware pre-installed. Can be fired rated for 45 minutes or 1 ½ hours..
FEMA361, FEMA 320/361 & FEMA 320 Tornado Safe Doors are constructed in accordance with the Federal Emergency Management Agency's (FEMA) guidelines and the International Code Council's (ICC-500) standard for tornado shelter doors.
Learn More

about Securall Steel Doors