Cabinets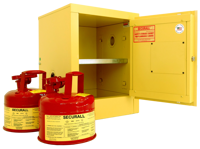 SECURALL STRIVES TO KNOW AND UNDERSTAND THE MOST CURRENT CODES AND REGULATIONS, WHICH DICTATE THE USE AND BUILD-DESIGN OF SAFETY STORAGE PRODUCTS.
---

All Flammable Storage Cabinets comply with current OSHA regulations and are designed in accordance with the standards of NFPA Code 30. Popular models are FM Approved. Hazardous materials storage requires special handling and special containers. Chances are your business has a number of hazardous chemicals on-site-like gasoline, cleaning supplies and paint thinner - all of which require their own special safe storage solutions. Securall safety storage cabinets are built to the highest quality specifications. Whether you are storing dangerous flammable chemicals or you need a cabinet for heavy industrial tools, we have the perfect cabinet for your needs....
Lockable Medical Gas Cylinder Storage Cabinets limit access to authorized personnel, protecting cylinders from theft, damage and/or tampering. The heavy-gauge, double-walled construction shields your cylinders from heat, sparks and flame, while separating them from flammable and combustible materials.Designed for D- and E-size cylinders up to 33-3/4" long x 4-1/4" diameter, and H-size cylinders up to 60" long x 9-1/4" diameter. Fire lining available.
Industrial Storage Cabinets - Organize, store and protect your most valuable tools and materials with these quality Industrial/Commercial Storage Cabinets. Rugged, all welded, 18-gauge steel construction will provide years of service in both factory and office environments. Each shelf is easily adjustable and carries a 500 lb. load capacity.
Storage of LP-Gas is covered in NFPA 58-2008, Liquefied Petroleum Gas Code. Propane Storage is severely restricted in buildings because of its rapid evolution of gas from leakage from containers. Securall heavy gauge spark resistant Aluminum Gas Cylinder Cabinets provide significant advantages over conventional painted steel models. Designed for outdoor storage, all aluminum cabinets will resist weathering and won't corrode or discolor.